Staircases in Latin America
Dedicated company to make metallic structures such as doors, windows, peripheral wall of prongs, walls gate array, plate change, system antirobbery etc.
Dedicated company to make metallic structures such as doors, windows, peripheral wall of prongs, walls gate array, plate change, system antirobbery etc
We are a company committed to our customers 100%, with a staff with years of experience which guarantees. We make new models parquet placement, application of dd, parts, baseboards, stairs, railings, and other services such repulidos lacquered furniture, doors, painted walls and placement of ceramica.porque our policy is speed, reliability and quality work, so that the customer is satisfied and
More...
Metallic constructions in América Latina
The company is engaged in the manufacture and sale of metal structures in general, hoppers, ceilings, metal furniture....
Metal structures in América Latina
metal perimeter fence closure works, metal structures, metal bracket, metal ceilings, railings metal safety railings and metal ladders, metal perimeter fences with panels of sheet...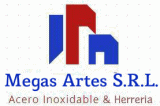 16 years of experience in the manufacture of steel structures, air stairs, curved stairs, stairs of stainless steel and glass, mezzanines, turntable ladders, stairs in iron and stainless steel, spiral staircases, canopies, stainless steel railings, BARCONES, facades , railing, gates; We are a Dominican company, and committed to the quality of our materials, fine finishes and skilled labor for each
More...
Company dedicated to developing, manufacturing and assembly jobs work of construction professionals, equipment and decoration. We work exclusively on designs and specifications of professionals in small and medium productions, or in unique works, either in our country or abroad.
We are importers of ladders in fiberglass and aluminum. extensible and scissor. We have maintenance service, parts, rentals.
Kitchen furniture in América Latina
Works are realised in melamine: furniture of offices, furniture of kitchens, closets, cabins for Internet, locutorios, counters, furniture TV, shelves, among others....
Guía de trabajo y empleos en América Latina - GuiaTrabajo.com
http://www.guiatrabajo.com
Encuentra trabajo o personal en América Latina. Anuncios gratuitos con curriculum.
Peruvian company leader in the construction of stairs and railings for interiors or exteriors, with ample experience in the mechanical industry metal, our producer main is:
Stairs for interiors and exteriors: straight lines, straight, snail, semi helical, coil, mixed, special, industrial, marine backings, right foot, of security. It chooses his model in our catalogues.
Railings. - according to models of our catalogues,
More...
Stairs.
Company dedicated to the design manufacture and assembly of straight stairs, marine stairs, industrial glass stairs, stairs snail, stairs, stairs alternate steps and stairs in kit
We have technically qualified staff.

Reliability and warranty on our work please ask and we will gladly deliver within and outside the province.
Floors in América Latina
Sale and installation of felt Felt: excellent product: anti allergic, anti static. Without neglecting which, thanks to its texture mimics a bouclé carpet high standard,...
Specializing in all types of metal structures, doors, windows, furniture, bedding, roofing, metal stairs and everything that is related to construction with metal.
Escaleras de aluminio. Escaleras de seguridad para alta tension. Escaleras metalicas.
Nuestras Páginas Amarillas en Español
Les invitamos visitar también: